Optimize performance


Discover a revolutionary approach



As you move to the cloud, getting your user experience right becomes even more important. Using the Method R approach, you can measure exactly how your applications are spending your time. This helps you ensure new and existing systems, built on Oracle Database, deliver high-performance on-premises and in the cloud.
Oracle performance tuning


Best practice guide
We've put together a best practice guide on how to improve Oracle performance, with insights from Method R creator Cary Millsap.
Discover how to:
Optimize performance of any application running on Oracle

Predict the performance impact of proposed changes

Equip your Oracle developers to produce efficient code

Build sustainable, maintainable, high-performance applications

Deliver and ensure optimal performance in the cloud
Access the complimentary guide
The Method R approach explained
One of the biggest problems with Oracle Database tuning is that non-technical people (and even a lot of technical ones as well) can't understand it. Although we invented Method R in an Oracle context, it's easy to explain our method in everyday terms, because Method R is probably already the method you use to tune everyday things.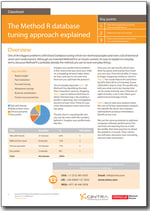 Free 45-day trial of Method R


Gain business insights faster
Empower your organization with improved issue resolution and faster access to data insights. Enabling you to ensure your new, and existing, Oracle systems deliver the performance your business demands.