Integrate Microsoft Azure with Oracle Cloud Infrastructure
Build on your Azure cloud strategy, with an Oracle Cloud backend for your Oracle-based applications
To align your Oracle workloads with your Azure-first strategy, our RapidCloud methodology will help you roadmap and migrate your Oracle-based applications to an Azure and Oracle multi-cloud platform. As part of this, we'll help you determine how best to leverage each cloud.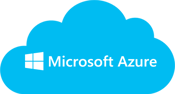 The best of both enterprise clouds

Many organizations have chosen Microsoft Azure as their preferred cloud, particularly in financial services. A significant number of these businesses also run critical workloads on Oracle-based applications, which may require services not available in Azure.

Using the private, high-bandwidth, low-latency interconnect between the two clouds, these applications can be aligned with your Azure-first strategy, while benefiting from the full range of Oracle Cloud services and optimized licensing.

This could include any application running on Oracle, including:

Oracle software such as E-Business Suite, PeopleSoft and WebLogic Server-based applications

Third-party applications, including those built by independent software vendors (ISVs)

Bespoke software
Begin your journey with a funded assessment workshop

If you're looking to align your Oracle workloads with your Azure-first strategy, book a funded Cintra assessment workshop today to get started.
Customer story


How MESTEC is using the Azure-OCI interconnect



Manufacturing software provider MESTEC runs its customer-facing web application in Microsoft Azure, with the Oracle database in Oracle Cloud, connected via the interconnect.

Discover how this is enabling it to benefit from services including Oracle Autonomous Transaction Processing and Real Application Clusters (RAC), and how the Azure-OCI interconnect is enabling it to deliver the high levels of performance its customers expect.

Cintra provided strategic Oracle advisory services to guide the MESTEC journey, and now offers 24x7 support cover.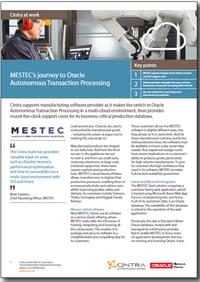 "The Cintra team has provided valuable input on areas such as disaster recovery, performance-optimization and how to successfully run a multi-cloud environment with OCI and Azure"



Mark Carleton,

Chief Executive Officer, MESTEC
Flexible deployment options

Run your application in Azure, with the database in Oracle Cloud Infrastructure (OCI). Or run your full application stack in OCI, using Azure as your secure access path. Integrate the two clouds via the private interconnect.

This enables you to leverage Oracle services such as:
Real Application Clusters (RAC), for maximum availability and scalability

Oracle Exadata Cloud Service, for extreme performance

Oracle Autonomous Database, including Autonomous Transaction Processing and Autonomous Data Warehouse
Benefit from zero bandwidth charges between OCI and Azure, maximum database availability and performance, and optimized Oracle licensing.

Complete design, migration and management services
We'll use our proven, automation-driven RapidCloud transformation methodology to deliver your migration to Azure and Oracle Cloud, and then manage your Oracle-based workload for you.
Get started today by registering your interest in a funded assessment workshop.