Top 10 tips for avoiding the most common mistakes in cloud strategies
According to Gartner, "Many organizations have no cloud strategy or think they have one. This research from Gartner describes its top 10 ways to enable enterprise architecture and technology innovation leaders to devise cloud strategies that will maximize the benefits their organizations derive from cloud services."

Gartner analysts reviewed hundreds of cloud strategy documents, and identified a range of common issues that arose in them. The authors explain what these pitfalls are, then set out how you can ensure your cloud strategy avoids them.

Gartner, Top 10 Tips for Avoiding the Most Common Mistakes in Cloud Strategies, David Smith, 21 May 2020
GARTNER is a registered trademark and service mark of Gartner, Inc. and/or its affiliates in the U.S. and internationally and is used herein with permission. All rights reserved.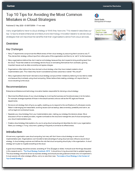 Register to get your copy of the research:
Modernize. Save. Innovate. Grow.
Book your assessment workshop
Get in touch with Cintra's experts today