Smarter Oracle procurement
Buying new technology? We'll get you a better deal.
We do this by architecting your cloud, on-premises or hybrid Oracle solutions in the most efficient manner.
Our proven, optimized reference architectures and blueprints will ensure you get a platform that genuinely meets your business requirements now and in the future, without requiring you to spend a fortune on licensing.

Download our Oracle licensing services datasheet.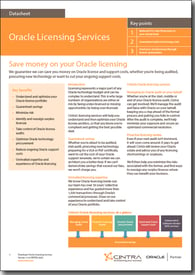 Book a meeting
Request a dedicated meeting to talk through your Oracle licensing requirements at a time that suits you.