Oracle-on-Google licensing
Top tips on how to move Oracle to Google Cloud Platform (GCP)
Over the course of 10 minutes, two seasoned Oracle licensing professionals look at all three questions every IT professional needs to ask themselves when considering moving an on-premise Oracle environment to Google Cloud Platform (GCP):
How much will it cost on GCP?

How do I move my Oracle to GCP?

Who can move my Oracle to GCP?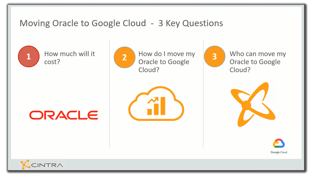 Book a meeting
Request a dedicated meeting to talk through your Oracle licensing requirements at a time that suits you.