Managing your Oracle licensing audit
Cintra can help you at any stage of the Oracle licensing audit process.
Whether you're at the start, middle or end of your Oracle license audit, Cintra's experienced commercial team can take control and manage proceedings on your behalf.
We'll liaise with Oracle and keep you a step ahead of the formal process, putting you fully in control. Once the audit is complete, we'll help minimize your exposure and secure an optimized commercial resolution.

Download our Oracle licensing services at-a-glance datasheet.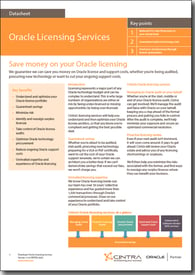 Book a meeting
Request a dedicated meeting to talk through your Oracle licensing requirements at a time that suits you.