Oracle Disaster Recovery licensing explained
Backup, failover, standby and remote mirroring.
In this infographic we will simply explain and clarify four key differences in the Oracle licensing rules when to comes to Disaster Recovery. It is important to understand the rules and it is important you are correctly licensed to avoid under/overspending.

Properly licensing your Oracle database is also critically important to your Disaster Recovery plan and should not be underestimated.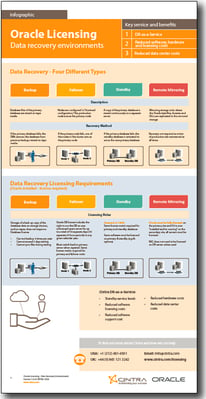 Video: Oracle licensing for disaster recovery
Learn how to license Oracle software in four disaster recovery scenarios, and ensure you're licensed correctly for each one.