Freedom to innovate and grow
Migrate and modernize your enterprise workloads and unlock yourself from legacy platforms.

Our Database Anywhere and Database Freedom brochure explores:

Which applications you can replatform to modern public, private or hybrid cloud platforms

Facts and figures from customer replatforming success stories

The freedoms you can unlock by transforming your database strategy with modern alternatives

Our proven RapidCloud delivery process: how we'll deliver your transformation

How you can get started today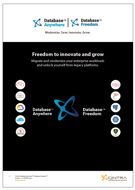 Modernize. Save. Innovate. Grow.
Book your assessment workshop
Get in touch with Cintra's experts today